The most iconic British bakes from the last 70 years
This year, Her Majesty The Queen became the first British Monarch to celebrate a Platinum Jubilee after 70 years of service. Following the Jubilee festivities, we wanted to celebrate this momentous occasion by diving into the best of British baking throughout her majesty's reign.
Collating a range of datasets on cake popularity, search data, and historical evidence, we've crowned the most iconic recipe from each of the last eight decades, starting in the 1950s.
With over 200 years of baking behind us, we've seen cake trends come and go. However, one thing has always remained the same; the iconic Mason Cash Cane Mixing Bowl that has helped home bakers whisk up sweet treats from generation to generation.
Keen to uncover the iconic bakes that the British public should be baking this year, Mason Cash asked people to vote for their favourites out of our eight chosen bakes that we dive into further down our list.
Take a look at our list of cakes below, each one baked in our timeless Mason Cash mixing bowl.
The winning bakes during the reign of Queen Elizabeth II:
---
Carrot Cake
This moist and spicy carrot cake is truly a classic. With grated carrots and a rich blend of spices in its batter, this cake has a distinctive rich colour and texture that really sets it apart. Carrot cake is typically topped with a cream cheese frosting and walnuts and remains a baking staple in most recipe books.
Why was it popular?
During World War ll, the British government imposed rationing to ensure fair distribution of all food and commodities to the public. When sugar was rationed to 8oz (230g) per week, home bakers across the UK had to find another way to keep their delicious treats on the table. Carrots are high in natural sugars like glucose and fructose, making for a perfect substitute to replace sugar in original recipes to sweeten cakes and biscuits. Carrot cake contains mostly carrots in its recipe, making it the perfect choice for this era.
Despite rationing, DEFRA reported consumption of cakes stood at 190g per person per week in 1950, almost 17% more than today's cake consumption. In a time of great uncertainty, fresh homemade bakes provided much-needed comfort, as it still does to this day.

---
Victoria Sponge
Named after Queen Victoria herself, this classic British bake is an afternoon tea staple. The classic Victoria sponge cake is a light, two-tiered sandwich cake traditionally filled with whipped cream, jam, and fresh fruit. This buttery bake is usually topped with a light dusting of icing sugar and decorated with fresh fruit. Today, you can find many variations of the Victoria Sponge, from an almond sponge with a raspberry and cream filling to a vanilla sponge with a summer berry jam. The options are endless.
Why was it popular?
As rationing ended in 1954, classic sugary bakes like jam-filled sponges made a major comeback in the early 60s. Demand for these sweet treats continued to rise throughout the decade resulting in mass-produced sponge cakes and Swiss Rolls becoming staples in the local shops. With ingredients readily available again, many home bakers chose to make their own versions of this classic at home.
---
Black Forest Gateau
The Black Forest Gateau originated in Germany in the 1930s and remains a popular dessert all over the world. The traditional gateau consists of several layers of a light chocolate sponge, with a rich, boozy cherry and kirsch filling, and finished off with whipped cream between each layer. Typically decorated with piped whipped cream, maraschino cherries and chocolate shavings.
Why was it popular?
Black Forest Gateau was one of the most popular desserts on restaurant menus and for dinner parties in the 1970s and into the 1980s, according to contemporary surveys by trade magazines like Caterer and Hotelkeeper. The Black Forest Gateau had established itself as a firm British favourite and continues to be enjoyed to this day.

---
Trifle
Trifles, also known as 'tipsy cake', is a classic British dessert consisting of layers of sponge fingers soaked in sherry, topped with fresh fruit and whipped cream. This dessert is typically made in a round glass bowl that can be found at the centre of almost every Christmas dinner table. Trifle recipes go as far back as the 18th century and haven't changed much since, except for the jelly and fruit layer, which is more common in the trifles we see today.
Why was it popular?
Rebranded as a "modern dessert" by Bird's Custard and coupled with a downward trend in demand for traditional cakes and pastries, the English trifle saw a revival during the 1980s. With the rise of home entertaining, this easy and quick dessert was typically served at dinner parties and family gatherings.

---
The Tray Bake
A simple dense cake, also known as a sheet cake, is typically cooked in a rectangular tray, often topped with icing and sprinkles that can be easily cut into squares for serving. Although this recipe has several variations, from chocolate brownies to lemon squares, the classic vanilla sponge with white icing and hundreds and thousands is an iconic British bake. Thanks to its quick and easy steps and minimal cleanup, this bake is popular among home bakers across the UK, with some even putting their own spin on the classic.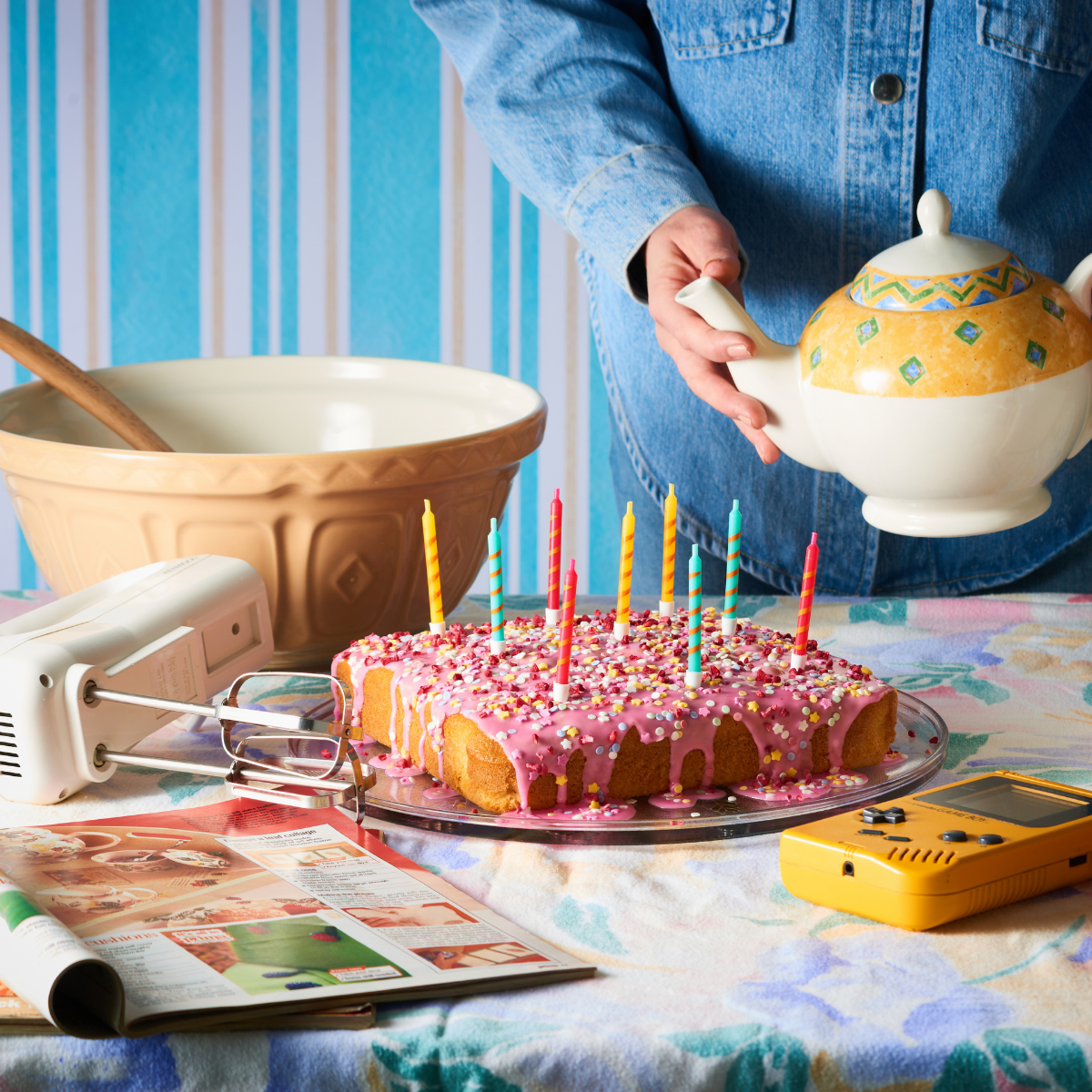 Why was it popular?
In the 1990s, we saw a sharp rise in women going into employment, especially among married women with young families. Having less time at home led many home bakers to look for quick and easy cake recipes like tray bakes and ready-made cake mixes that they could put together quickly. These bakes were popular at birthday parties as well as family gatherings.

---
Luxury Cupcakes
Not to be mistaken for a muffin or a fairy cake, cupcakes are small, individual portions of cake in paper cases that are often topped with decorative icing and sprinkles. Originating in America in the early 19th century, cupcakes became widely popular as they required less baking time than the average sponge cakes while still maintaining their delicious flavours. These days, cupcakes have made their way across the globe and are popular treats at birthday parties, baby showers and even as a quirky spin on a wedding cake.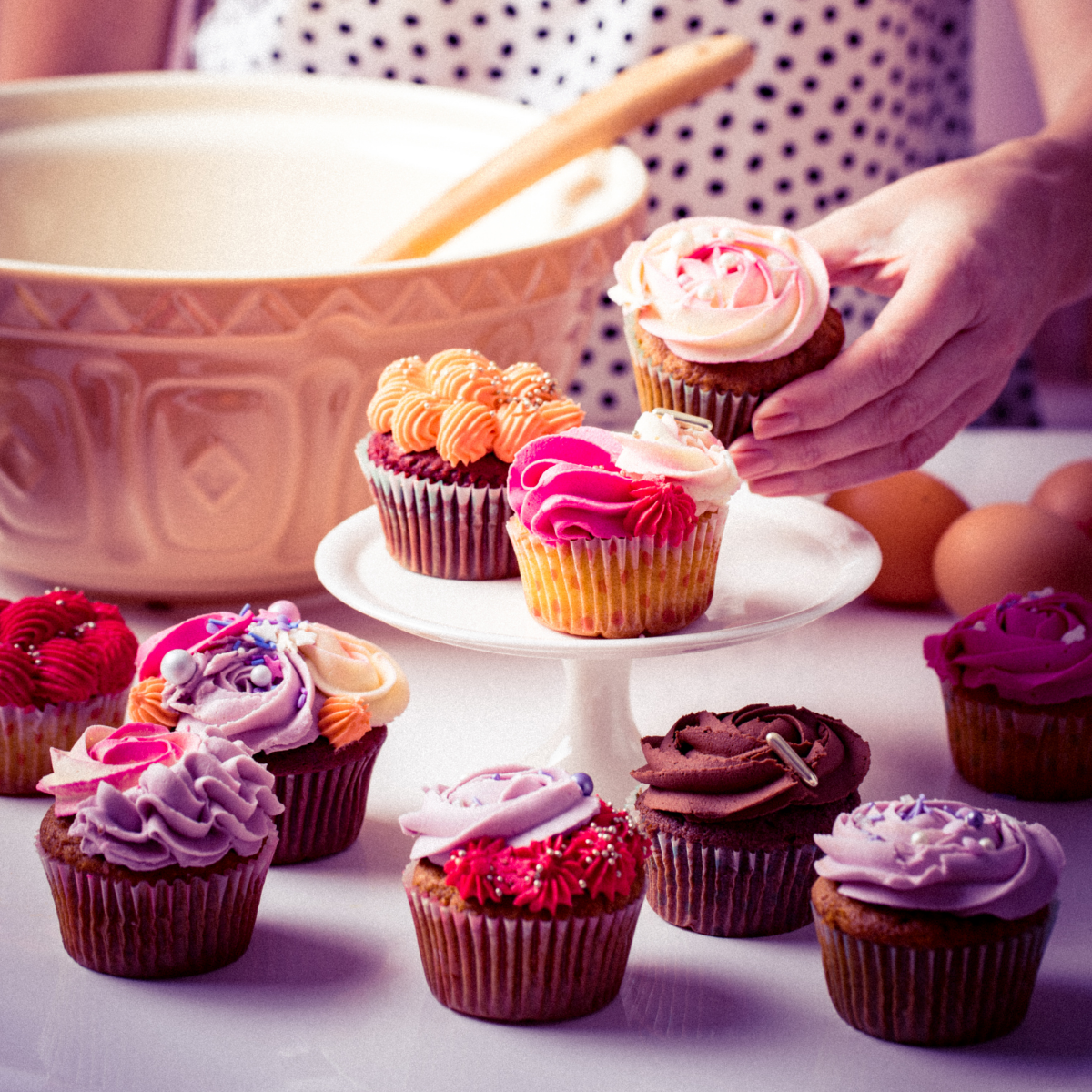 Why was it popular?
Luxury cupcakes saw a surge in popularity following Carrie Bradshaw's Sex and The City cupcake purchase at the New York Magnolia Bakery. Giant cupcakes and embellished cupcakes with sprinkles became popular purchases in cafes, and cupcakes became the second most popular type of cake to bake at home, according to Mintel. In the same decade that Queen Elizabeth II celebrated her 50th year on the throne, several speciality cupcake bakeries were popping up everywhere, offering homemade cupcakes in a variety of flavours with intricate frosting designs.
---
Lemon Drizzle
A lemon loaf cake with a light zesty sponge, often drizzled with a delightfully crunchy lemon sugar glaze made from only sugar and lemon juice. This loaf cake is particularly popular as it can be kept at room temperature for several days and frozen for up to two months without losing its delightful flavour.
Why was it popular?
A 2018 survey revealed the best-loved bake in Britain at the time was Lemon Drizzle cake. This cake was perfect for the busy on the go lifestyle of the 2010s as it was quick and easy to make, and can be made in advance.
The year the world locked down to slow the spread of COVID-19 was also the year many of us were able to pick up our aprons and reignite our love for baking. Social media was flooded with posts of friends and family trying their hand at their own homemade creations, encouraging others to do the same. Two cakes were chosen for this decade due to lockdown baking trends causing an unexpected spike in recipe popularity. In 2019/2020, an average of 163 grams of cakes, buns and pastries were consumed per person per week in UK households, the highest for 14 years!
---
No-Bake Cheesecake
Despite its name, a cheesecake is not actually a cake at all. The cheesecake is described as a tart consisting of a buttery biscuit-crumb base, topped with a thick creamy mixture of soft cheese, cream, eggs, and sugar. This dessert is often topped with fresh fruit, fruit coulis, and even more modern flavours like white chocolate, cookies and cream and caramel. Most cheesecake recipes can be set in the fridge without any need for baking, saving time and energy, making it popular amongst busy bakers.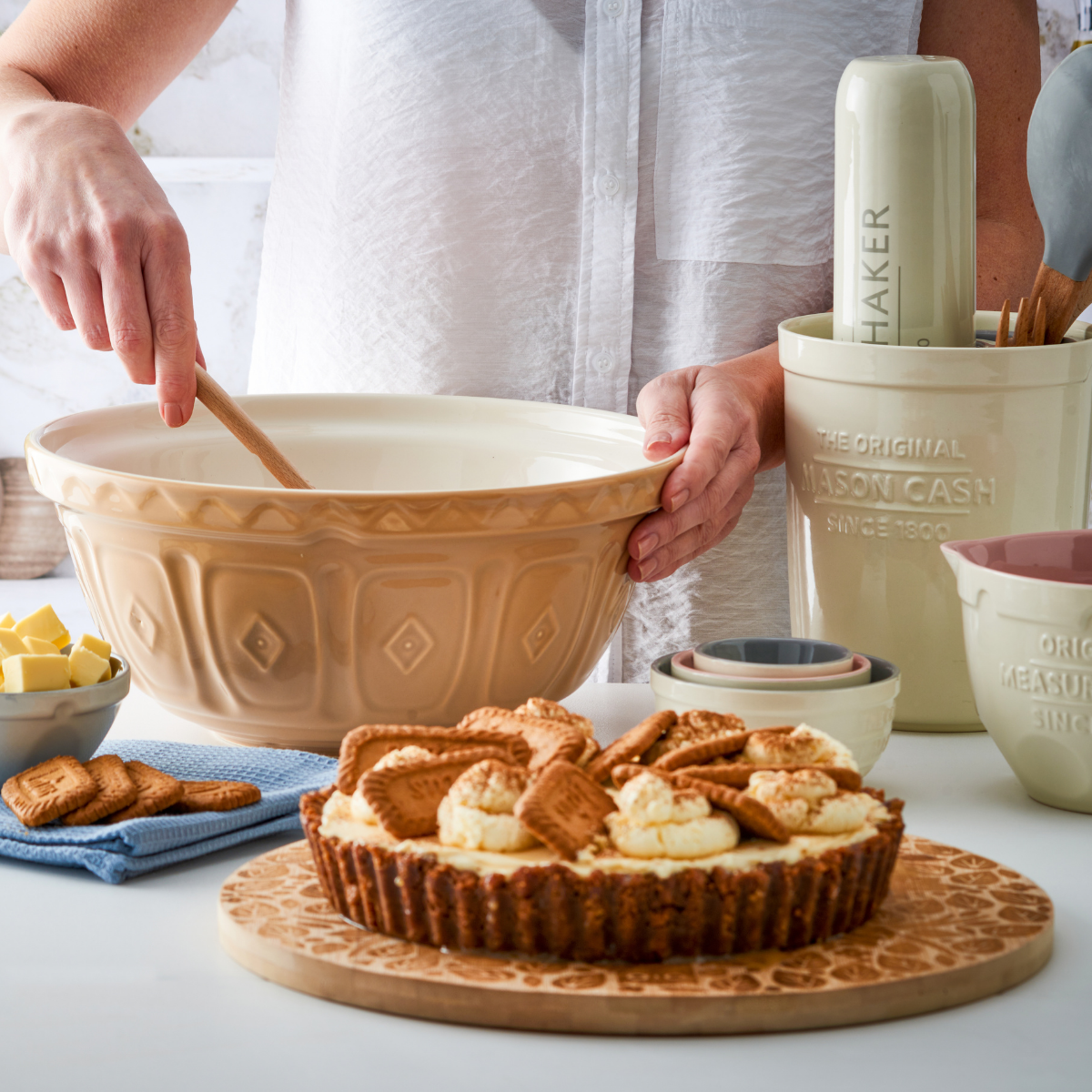 Why was it popular?
A 2020 survey of Britain's favourite cakes from the decade revealed cheesecake was the firm favourite. Cheesecake has also remained the most searched for cake on Google consistently for the past five years, despite being briefly overtaken by Banana Bread during the lockdown of 2020.
Banana Bread
A moist and dense cake containing mashed bananas sometimes made with nuts or chocolate, it is often made in a loaf tin and boasts a delightful caramel-brown crust. Recipes for this delicious loaf cake can vary from just three simple ingredients to more complicated recipes. These days, this recipe can be altered to provide a healthier or free-from option for anyone with dietary restrictions.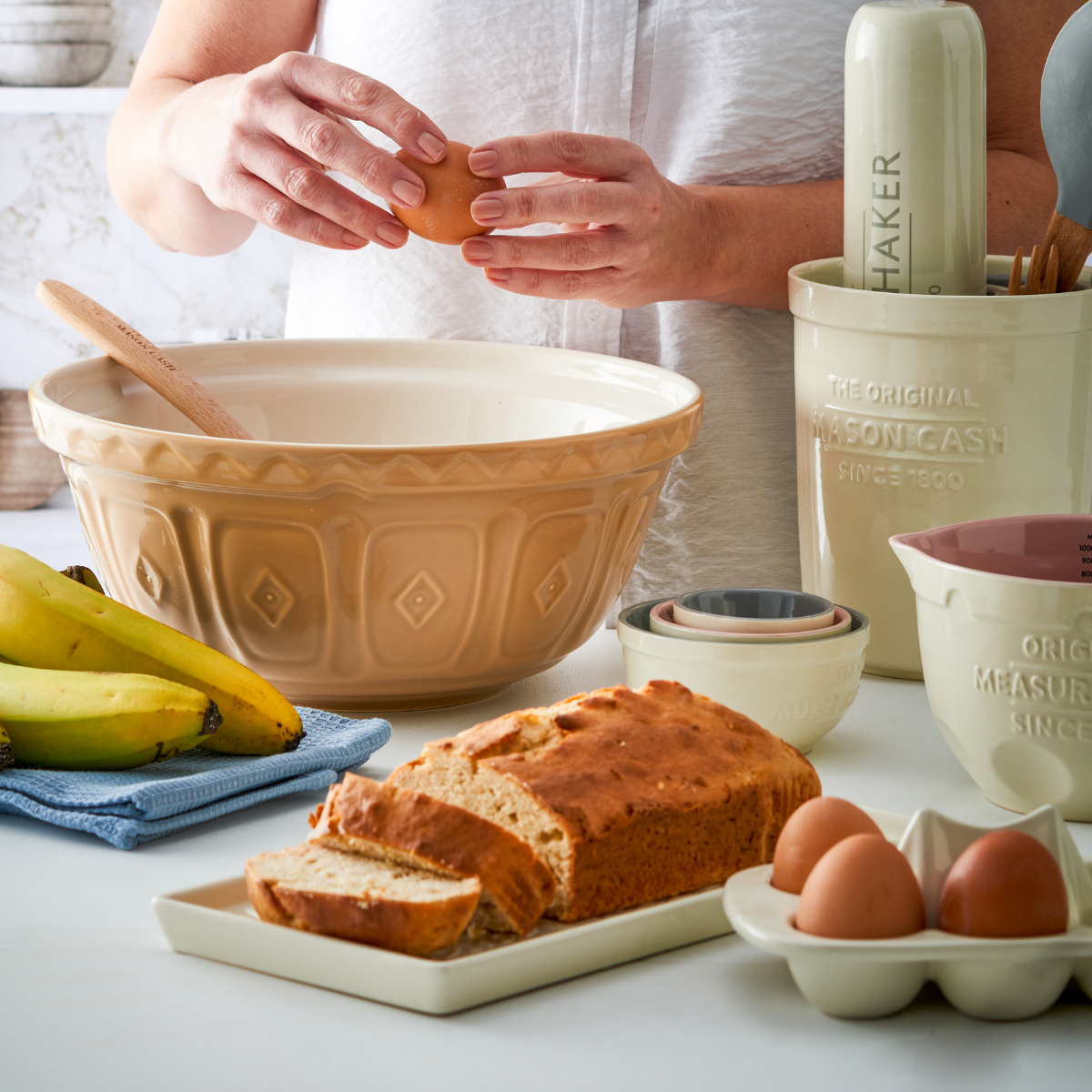 Why was it popular?
Honourable mention goes to Banana Bread for temporarily overtaking cheesecake as the most searched for British cake in the UK during the 2020 lockdown. This particular bake requires only a few ingredients and is easy to follow even for beginners, contributing to its popularity.
What is Britain's most iconic cake?
As part of our research into the nation's favourite cakes during the Queen's reign, we conducted a poll of 1,000 people to uncover the most iconic British cake. Victoria sponge took the crown with an incredible 77% of the vote. The traditional English trifle came in a distant second place with 7% of the vote. The 2020 lockdown favourite, Banana Bread, was put firmly back in its place, receiving a measly 0.5% of the vote.
As a nation of cake lovers, it's no surprise that we hold several British bakes in high regard. Our tastes for cake may have changed over the years, but it's comforting to see a firm royal favourite like the Victoria sponge regarded as the most iconic British bake. With the Jubilee around the corner, we have no doubt some of these classic cake recipes will be part of the celebrations.
To help you recreate your own version of the Victoria Sponge, try out our favourite recipes just in time for the Jubilee.
The traditional fan favourite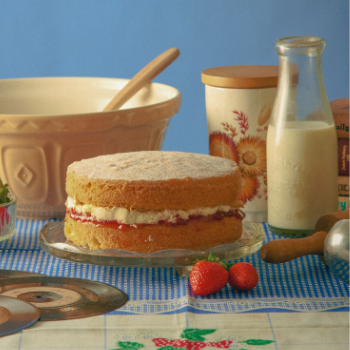 A zesty spin on the classic
Lemon Curd Victoria Sponge
Gluten-free Victoria Sponge
For the adventurous baker