How to Season a Terracotta Baking Stone
Seasoning your Mason Cash Baking Stone will ensure a non-stick surface for lots of beautiful bakes. The more that your Baking Stone is used the better the non-stick performance!
If using your baking stone for the first time, hand wash in warm soapy water before seasoning.
Step 1
Immerse the stone completely in clean, warm water and let it soak for up to half an hour.
Step 2
Remove the stone from the water, wipe and leave it to dry naturally. This takes about 2 hours.
Step 3
Rub the stone with vegetable oil to coat the baking surface entirely.
Step 4
Place the stone in a cold oven and increase the heat to 250°C/ 480°F/ gas mark 9. Bake the stone for approximately 20 minutes until the oil is fully absorbed.
Step 5
Remove from the oven and allow it to cool completely.
Repeat steps 3 to 5 again.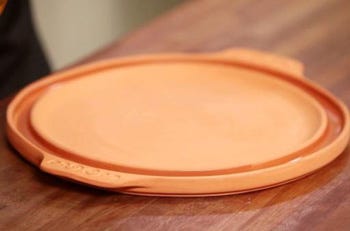 Please note that unglazed terracotta will soak in fats and oils so will stain when seasoned. This is a design feature that improves the performance of the stone every time it is used. The more you use it, the more the non-stick performance of the stone improves.
DO NOT use the stone on hobs or under grills. DO NOT place the stone directly onto work surfaces or tabletops. Allow to cool before washing in warm water. DO NOT put in a dishwasher or in a microwave.