The Innovative Kitchen Collection
The Mason Cash Innovative Kitchen collection delivers smart solutions for day to day kitchen needs. Each item within the range has a traditional function with a modern twist that brings either dual function or improved performance.
Designed for multi-functionality and comfort - we've put together a helpful guide on what makes each piece unique to your conventional kitchenware.
---
Mixing Bowl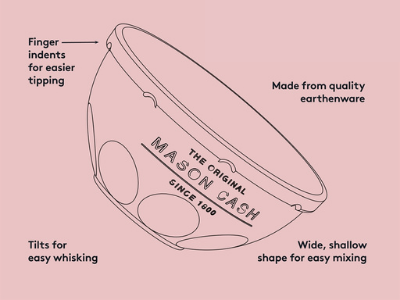 The tilting Mixing Bowl makes mixing on countertops easier, allowing more air to be incorporated into mixes when whisking.
Egg Store
This Egg Store holds 6 eggs and the central hub is raised so that eggs can be cracked on it rather than on sides of pans.
Cake Tins
This set of 3 Cake Tins nest inside each other, sit snugly on top of one another and allow cakes to be presented and cut on the shallow, elevated base.
Spatula
The Spatula is perfect for stirring mixes and scraping bowls and pans clean. The head can be removed and used as a bowl scraper, and the small spatula is ideal for spreading frosting onto cakes and scraping the inside of jars.
Solid Spoon & Jar Scraper
This 3-in-1 utensil features measurements for 1 tablespoon, 1 teaspoon and 1/2 teaspoon on the spoon head, with a silicone jar scraper and spatula on the handle.
Pastry Brush & Fork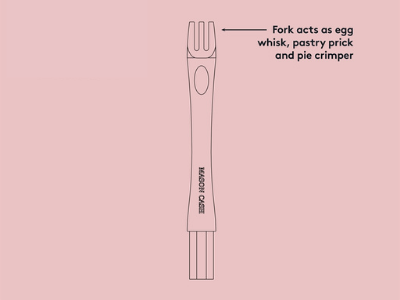 The Pastry Brush is perfectly sized to allow you to glaze pastries and baste with ease, whilst the fork end can be used for whisking egg wash, pricking pastry and crimping pie crusts.
Slotted Spoon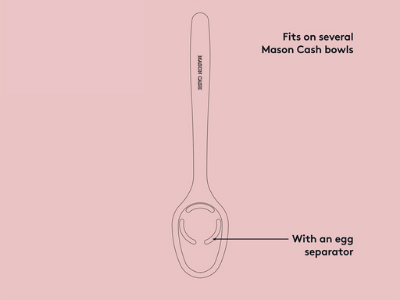 The Spoon is ideal for stirring and draining food from water, sauces or oils, and the slots on the spoon head are designed to separate egg whites from yolks.
Utensil Pot
The Utensil Pot holds all of the Mason Cash Innovative Kitchen tools and Roller Shaker rolling pin neatly, and the divider doubles as a trivet to protect work surfaces from hot cookware.
Large Storage Jar
This Storage Jar has been designed to hold 80 teabags or 1kg of sugar, so you can fill up straight from a supermarket packet without any excess.
Pudding Basin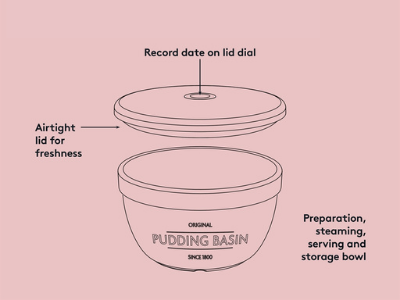 This Pudding Basin is ideal for steaming traditional puddings. The vented base allows bubbles to escape from underneath preventing it from tipping over in the pan, and the rim is specially designed to seal the pudding.
Measuring Cups
This multi-measure set incorporates both spoon and cup measurements including 1 cup, 1/2 cup, 1/3 cup, 1/4 cup, a tablespoon and a teaspoon.
Measuring Jug
This tilting 1 litre Measuring Jug makes mixing on countertops easier, allowing more air to be incorporated into mixes when whisking.